not all jerkY STICKS are made equal
When it comes to healthy snacks, it's hard to beat jerky - but only if it's made right. It's important to remember that not all jerkies are made equal. There are plenty of popular brands out there that are loaded with questionable ingredients, many of which cancel out any nutritional benefits. Here at Chomps, we do things differently.
By going back to basics, we cook up high quality jerky snacks than you can enjoy anytime, guilt-free. We start with only a few organic ingredients, such as 100% Grass-Fed Non-GMO New Zealand Beef and a handful of natural spices, then blend them together to create filling, tasty treats that feature the naturally enhanced flavor of authentic beef.
Each and every one of Chomps' products are filled with 9g of protein, more than most typical jerky sticks. They're also made with no added sugars and no gluten, making them perfect paleo snacks.
Our snack sticks have no MSG or nitrates, no fillers, no binders, and no added preservatives. Because we use celery juice to make our jerky stay fresh, you needn't worry about synthetic preservation ingredients that could put your health at risk. Additionally, our jerky sticks have less salt than most of those made by other commercial manufacturers.
OUR NUTRITION FACTS & INGREDIENTS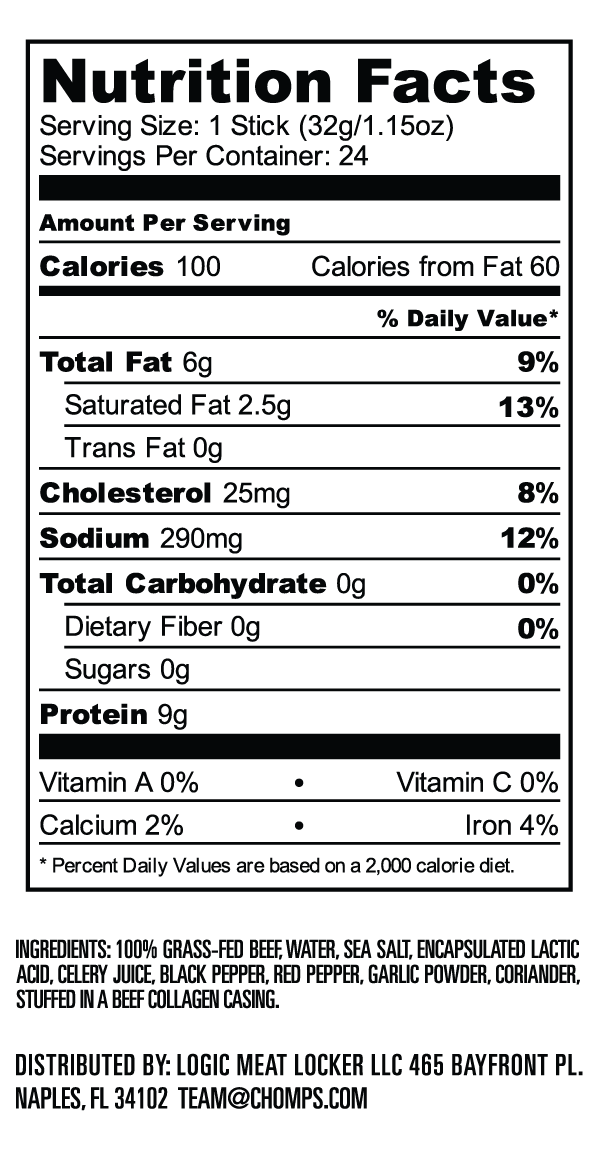 ORIGINAL BEEF
We source only 100% Grass-Fed AND Grass-Finished beef that is also 100% Non-GMO Project Verified. The animals are never sent to feedlots, never given antibiotics or hormones and are harvested in the most humane way possible.
Wholesale Margins (Box of 24)
MSRP: $2.49 each
Wholesale: $1.60 each
Margin: 36%
Monthly Subscription
5% off: $1.52 each
Margin: 39%
×