Free SHIPPING ON ORDERS OF $165 OR MORE!
Italian Style Beef Jerky Sticks
Chomps Italian Style Beef sticks let you bring your favorite Italian style meatball on-the-go! With just the right balance of oregano, basil, onion, and garlic, this AIP-friendly stick takes on-the-go snacking to a new mouthwatering level! Perfect for anyone looking for a savory, extra mild stick! We use grass-fed and finished beef sustainably sourced from Cape Grim Beef, Tasmania, Australia, so you can feel good about what you and your family are eating.
Ingredients: 100% grass-fed & finished beef, water, sea salt, encapsulated lactic acid, cultured celery powder, (celery powder, sea salt), ground oregano, garlic powder, onion powder, ground basil, stuffed in a beef collagen casing.
9g

Protein

0g

Sugar

90

Calories
Who Eats Chomps
People who want delicious, healthy snacks
Busy people on the go
Healthy lifestyle enthusiasts
Weight-conscious dieters
Environmentally conscious consumers
Supporters of GMO Labeling
Advocates for humane treatment of animals for food
Athletes and weekend warriors
Paleo dieters who need Paleo snacks
Whole30 Program® followers who need Whole30 Approved® snacks
People who need gluten-free snacks
People avoiding GMO ingredients and junk foods
10 advantages of Chomps jerky sticks
Sustainably raised in a humane free-range environment just as nature intended. No factory farms.
Grass-fed and grass-finished non-GMO beef and venison; free range & ABF turkey
Non-GMO Project Verified—With 100% Non-GMO ingredients, even the beef cows, deer and turkeys sourced for Chomps jerky eat non-GMO feed.
The first of its kind. Chomps is the first brand of shelf-stable meat snacks to be designated "Non-GMO Project Verified."
Certified Gluten Free—People with celiac disease and other gluten intolerances can safely eat Chomps
Certified Paleo—Paleo dieters know that Chomps Paleo snacks are a safe choice for their diet plan
Whole30 Approved—People on the Whole30 Program know that Chomps meets the program's strict parameters for a Whole30 snack.
Low-calorie, healthy alternative to junk-food jerkies
With 100-110 calories and 9 grams of protein, Chomps provides more energy-boosting protein than other beef and venison jerky sticks
Chomps 4 amazing flavors—Beef Original Flavor, Beef Crankin' Cranberry, Beef Hoppin' Jalapeno, and Venison Cracked Pepper & Sea Salt
Grass-fed & Grass-FINISHED Never given ANY antibiotics OR hormones.
X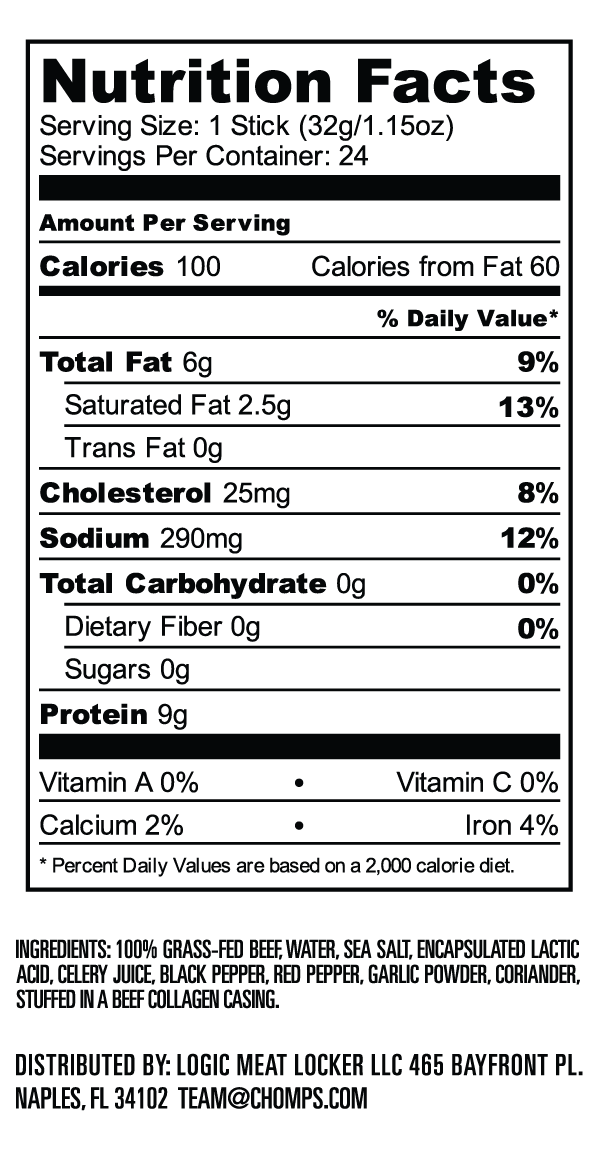 Italian Style Beef
We source only 100% Grass-Fed AND Grass-Finished beef that is also 100% Non-GMO Project Verified. The animals are never sent to feedlots, never given antibiotics or hormones and are harvested in the most humane way possible.